One Lucky Woman Won a $3 Million Dollar Slot Machine Jackpot!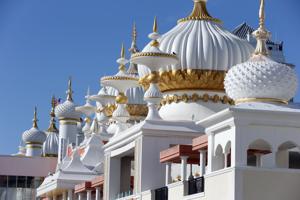 The 3-million-dollar jackpot was one on a slot machine at the Trump Taj Mahal. This was the largest slot win that Atlantic City has seen in more than three whole years. The exact machine that the money was won from happened to be a Wheel of Fortune city-wide progressive. The winner only put in a total of four dollars. The machine was verified to make sure it was operating correctly, and it indeed was. The slot machine creators that maintain the progressive systems, known as IGT will be paying the jackpot. The lucky winner however, wished to have her name withheld.
The Trump Taj Mahal
The vice-president of the Trump Taj Mahal's operations even commented on the subject. Since this large of a jackpot hadn't been seen in years, it was thought to be quite a spectacular thing. The casino is finishing a bankruptcy. However, they are still open and apparently quite lucky. In the last four years the Trump Taj Mahal has only seen one jackpot that was over this recent jackpot of $3 million. It was a jackpot win of $3.8 million in 2012 won on a Wheel of Fortune machine in Borgata.
Previous Jackpots Won in Atlantic City
During 2013 one lucky gambler also won an almost $3 million jackpot, totaling at about 2.6 million. This was won on the Wizard of Oz slot machine in Borgata. This followed another $1 million jackpot about a month earlier at Golden Nugget. In 2014 there were 3 mega jackpots won which include a $1 million hit at Bally's, a $2 million win at Golden Nugget, and another $1 million won at Harrah Casino. In 2015 however, there was only one single million dollar plus win at Betfair Casino online.
Whether you have a strategy or not, you could always win on a slot machine. Probably not to the extent of the jackpot winner mentioned, because this was a very extreme example of one lucky winner who beat the odds and won an incredible jackpot, that most only dream of winning.
You might be also be interested in these articles